FATE, ENDURANCE, AND AUTHENTICITY ARE IN PLAY WITH THIS MOON. FOCUS ON WHAT YOU WANT TO LAST. CAST OUT WHAT YOU KNOW IS ALREADY DEAD AND DECOMPOSING.MOST IMPORTANTLY, BELIEVE IN YOUR MAGIC.SCORPIO FULL MOON HOROSCOPESEXACT APRIL 29TH, 9:58 PM ESTASPECTS MADE TO SATURN + THE NODES OF THE MOON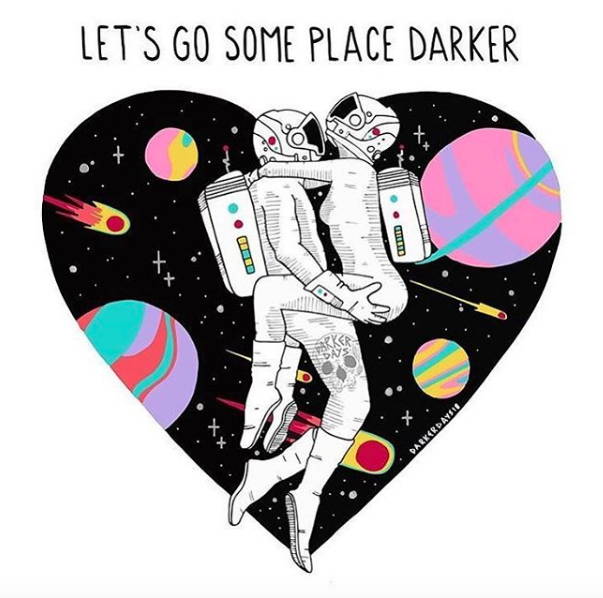 Art by Darker Days Illustrations
You access a surge of primal life force, sexual magic, and some wealthy benefactors. You've been putting in hard work professionally, refining or redefining your public image. Now you can start to bring your work and joy together. Let your ancestors and intuition guide you.
Fate is at play in your relationships. Your romances up-level, collabs enhanced or secured. In some connections, you decide you're done though. Either way, definitive moves are made to expand your opportunities, make you bigger, lead you to future harvest of your gifts.
Tensions are high at work or your commutes a hot mess - stay poised; your actions are visible now. This is actually a very magical moon for you tho. Any ritual will be extra potent. Light red candle for better sex, put some basil in your wallet for more cash. Ask for more.
Seductive + creative powers are - schedule a appt, work ur self-pleasure sex magic, stay home + get messy making art. Something more real and lasting is building in your relationships -- even if it's just a new set of standards, for now. Propose, seduce, create.
Bring the party home - your house is the setting for seduction and bacchanalia. Also a beautiful moon for building/servicing an ancestor altar or witching-up your home. Make your space into a reflection of the abundance and love you desire to magnetize it all toward you now.
Gonna be hard to keep your opinions to yourself this full moon, so just be honest + sincere. No lies, hun. You'll get caught . The best way to use ur words at this time - speak your truth, ASK for what you need/want, write your intentions, speak your prayers. Word magic.
Focus on what makes you feel worthy and lets you remember your wholeness. Your wealth is growing -- more money, body love, and the abundance of real, deep, true self-esteem. If a light shines on your fears or sense of lack, send some compassion there. You're still lit af.
Cast yourself. You are the spell. This is *your* energy to work with. Your word magic is strong now too, so speak into existence what you want to Be and to Have Endure. Please ignore saboteurs. Yes, trolls and muggles are threatened by your power but honestly, fuck them.
Your unconscious is illuminated so outbursts are likely. Think it through first. Use the reveals to your best advantage by journaling, being self-compassionate. Take the ways you once sabotaged yourself and banish them. Build up your self-esteem + bank acct instead.
Spend time with those you want to get to know better now. Your friendships are in the spotlight, good and bad. Resist the urge to create drama though. Use your sexual+creative powers instead. Let ur pleasure lead you to the more authentic version of You you're becoming.
Work your magic in favor of your fame, honor, and success. You're very visible right now, so act accordingly! You are facing some deep fear, old patterns, or sense of scarcity. Don't reject those parts. But do focus on your talents and true supporters at this time too!
You're not the same Pisces you were 8 years ago. You've been through the depths and healed. so. much. Now you can finally turn your eyes toward where you truly want to go -- travel, knowledge, sharing your wisdom. Lose your limits. 2018 is the year of your expansion.